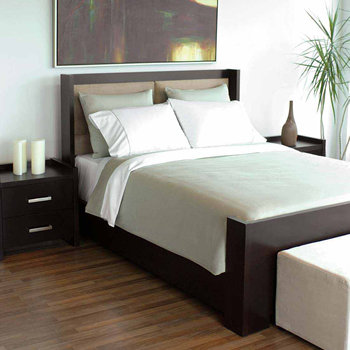 Carey and I have an interesting problem in the bedroom. It's not what you think.
See the issue is this – Carey really, really enjoys lounging in the bedroom. She can stay all day in bed, watching television – only getting up to pee and eat.
I can't do that. The bedroom only has two purposes in my opinion. One of them is sleep.
So you begin to see the dilemma. Carey occasionally has days/nights where she wants to just crawl in bed, veg out, and watch TV. Of course, she also wants me to be with her when she does this.
I never even had a television in my bedroom. I bought one for Carey when we moved in together. She didn't ask – but I knew she really wanted it. So she got it. I feel uncomfortable with a television in the bedroom. It can never, ever, be on when I am going to sleep. If it's not 100% dark and quiet when I go to sleep, I'll be up all night.
Tonight we went and interviewed a DJ for our wedding. On the way home, Carey stated that she was really tired and wanted to just relax in bed and watch television. She asked me to stay in the room with her. I visibly winced – and I watched her eyes crinkle in humor as she observed my internal conflict.
On the one hand, Carey is my angel – I love everything she does for me, selflessly, every day. How can I do less? On the other hand, I really, really hate watching TV in bed. What to do?
So here I am, in bed, typing this blog as Carey watches shows recorded on the DVR. It feels unnatural, but I will do anything for her.
Now I have to poll my audience – am I alone in not wanting a television in the bedroom? Am I alone in thinking of the bedroom as a sanctuary of quiet peacefulness and not an entertainment room (except for … ahem … intimate entertainment?)