I am Ron Sparks. The guy in the picture to the right.  That's me.
I own my name legally.  I own the website, https://www.ronsparks.com.  I own the Twitter name @RonSparks.  I am RonSparks on LinkedIn.  On Facebook I am Ron.Sparks.  On YouTube I am RonESparks.  My many and varied email addresses are all RonSparks derivatives.
I have been Ron Sparks for fifty years.  My father has been Ron Sparks for over 70 years.  My grandfather was Ron Sparks for over 84 years.
I am Ron Sparks the blogger.  The expat living in Germany.  The Cancer Survivor.  The Motorcycle aficionado.  The Father.  The Husband.  The Astronomy buff.  The Writer.  I am the Ron Sparks you all know and love (or just like a lot).
With the general adoption of social media and other technology venues over the past decade, more and more people who claim the name "Ron Sparks" are popping up and people are getting confused with me.  Crazy; I know.  How in the world can there be more than one of me?
And yet there is. And they have valid claim on their legal names, even if I am the ULTIMATE legitimate Ron Sparks (after all, I own the domain – so that makes me more real, right?)
Ron Sparks For Governor?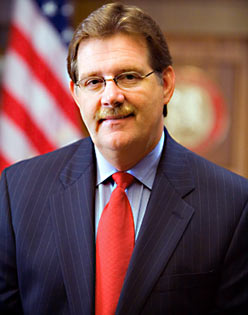 There is Ron Sparks, the Alabama politician who was running for governor in 2010.  From his website . . .
Ron Sparks, now in his second term as Alabama's Commissioner of Agriculture and Industries, was born and raised in Fort Payne, Alabama, where he learned the value of hard work from his mother and grandmother.
This guy was the biggest thorn in my side as a fellow Ron Sparks for a while in 2010.  I would get bombarded on Twitter by people referring to him, thinking he owns the @RonSparks twitter address.  In actuality, his Twitter address was @RonSparks2010.  Here's just a sample of the messages I got on Twitter for this Alabama politician on a regular basis:
"@RonSparks talking about gambling and scholarships and half of our children in school can't even damn read let along get a scholarship."   "@ronsparks That's one happy protestor. I half expected mullets, rifles, and an angry mob. Sadly, I was mistaken."   "@ronsparks Things like that help put things in perspective sometimes. Maybe he shouldn't have bought the Benz. I know I'll think twice now."
There are more, but you get the picture.  My twitter name is regularly confused for that of the Alabama politician who wants to be governor.
Yes, people, this is A Ron Sparks.  But not THE Ron Sparks.  I am THE Ron Sparks.
Ron Sparks – Comedian?
There is a Canadian comedian by the name Ron Sparks.  I used to get confused with him quite often, but it seems to have tapered off these past couple of years.  I don't get hammered on Twitter by requests for him, but I do occasionally get my catchall email at RonSparks.com hit with a request or two.  This is a little about Ron from his website:
Ron Sparks has burst onto the Canadian comedy scene in an incredibly short period of time. He first began performing as a member of York University's Vanier Improv Company but soon ventured into sketch comedy with much success. Ron's troupe, The Minnesota Wrecking Crew, won the Canadian Comedy Award for Best Sketch Troupe in 2003 and 2004, and were nominated again in 2005.
I watched some of his clips on YouTube – he's pretty funny!  I can think of worse people to be confused with.
Sparks – The Band?
Yes, you read correctly.  There is/was a band called "Sparks" headed by two brothers, Ron and Russell Mael.  For years I got emails at RonSparks.com asking about the band.
The funny thing, Ron and Russell Mael are brothers in a band named "Sparks."  Ron and Russell SPARKS are brothers! (yes my brother's name is Russell)
This from Wikipedia:
Sparks is an American rock and pop music band formed in Los Angeles in 1970 by brothers Ron (keyboards) and Russell Mael (vocals), initially under the name Halfnelson. Best known for their quirky approach to song writing, Sparks' music is often accompanied by cutting and acerbic lyrics, and an idiosyncratic stage presence, typified in the contrast between Russell's wide-eyed hyperactive frontman antics and Ron's sedentary scowling.
Out of curiosity, I bought one of their albums once.  They are pretty darned good!  Again, I can think of much worse people to be confused with.
Ron Sparks – The Fighter?
There is an AFL fighter by the name of Ron Sparks.  I have never been confused for him online – as it seems he doesn't have a huge online presence.  He does have a Wikipedia page, though.  Check him out.
From his old MySpace page:
Ron "The Monster" Sparks is currently the American Fight League and Ring Of Rage Super Heavyweight champ and always up for new challenges. He has survived many battles in & out of the ring over the years and they have all made him stronger. Ron is a Warrior in the Cage and Gentlemman on the street.
Many of you know I studied and taught martial arts for years when I was younger, even owning my own martial arts school in Orlando for a short while.  I like sharing a name with a fellow fighter!
Other Ron Sparks'?
Aside from my father and grandfather, I have been approached online by two other Ron Sparks' who wanted to buy the domain name from me.  One was a software engineer on the West Coast.  I can't remember where the other one was from.
I guess my name, Ron sparks, is not quite as unique as I once thought.  Still, if you stumble on this page looking for Ron Sparks the politician, or Ron Sparks the comedian, or Sparks – the band – you have landed in the wrong place.  I have provided links to the appropriate places for you to find those guys.
If you want to find out who the REAL Ron Sparks is, (the guy with the domain name), stay and read the blog.  Welcome, and enjoy!